NOTE: As Instructors are able to work in different territories, the best way to add them to the system is to contact Central Office first. This way we can check if the Instructor already has a record in the system and, if they are, just assign them to your Territory and save you time uploading all of their detail
PLEASE NOTE: If an Instructor shared by multiple Franchisees, those Franchisees will be able to see all notes and documents for that Instructor.
Adding an Instructor
Navigate to Instructors and select New Instructor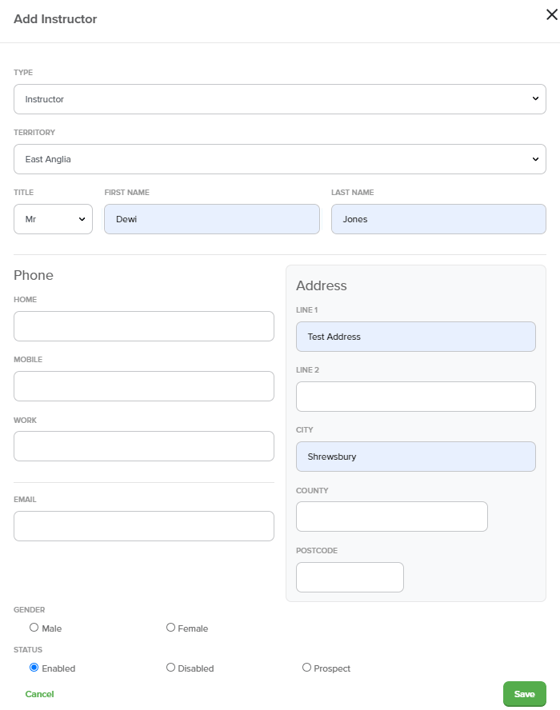 Fill in or select the following details:


Instructor Type
Territory
First name, Last name
Phone number (Optional)
Email
Address
Gender (Optional)
Status

Click SAVE before exiting
Editing an Instructor
Navigate to the Instructor and select Edit in the Instructor Panel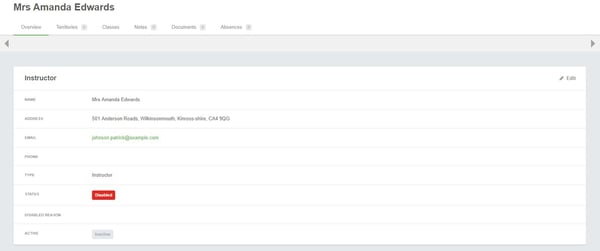 Type: Here you can change the type of Instructor if required.

The contents of this list are curated by your FranScape Administrator

Name, Address, Phone & Email can be edited.
Status: Instructors can be marked as:

Enabled

The Instructor can be assigned to Classes

Disabled

The Instructor cannot be assigned to classes
A "Disabled Reason" is required to be selected from the drop-down list below.

The contents of this list are curated by your FranScape Administrator

Prospect

Allows you to collate the details of prospective Instructors before they start teaching
The Instructor cannot be assigned to classes
SAVE before exiting
Login Details for Instructor Portal
NOTE: Adding an Instructor does NOT immediately email them login details to the Instructor Portal. It may be confusing for them as they would not have been assigned any Classes at this point.
To issue log in details to an Instructor:
Inform the Instructor that they will shortly receive a password reset email
Make sure the Instructor is marked as Enabled
Go to the teacher login page
Select Forgot Your Password?
Enter the Instructor's Email Address
Click Request Password Reset

This will email a password reset link to the Instructor, allowing them to set their own password.