How to view and manage lessons within a class

View Registers
Navigate to the Class
View/Print the register:

Click on the Print Register button
Selecting Print Register opens the register in PDF format for printing/saving

Marking a completed lesson as incomplete
Navigate to the Class
Select the Lessons Tab
Select the Mark as Incomplete button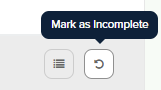 Change Instructor for Individual Lessons
Navigate to the Class
Select the Lessons Tab
Select the Print Register button
Select the relevant Instructor from the drop down list
Click SAVE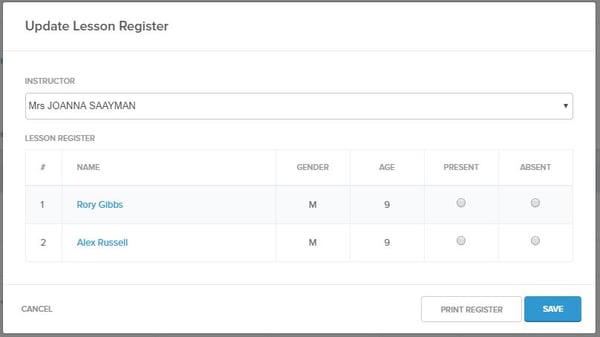 Completing Registers
Selecting the tick symbol opens the register
You can select a different Instructor if the usual one had to be covered by someone else
Click SAVE to store the completed register
Cancel a Lesson
Select the "X" symbol to open the cancellation window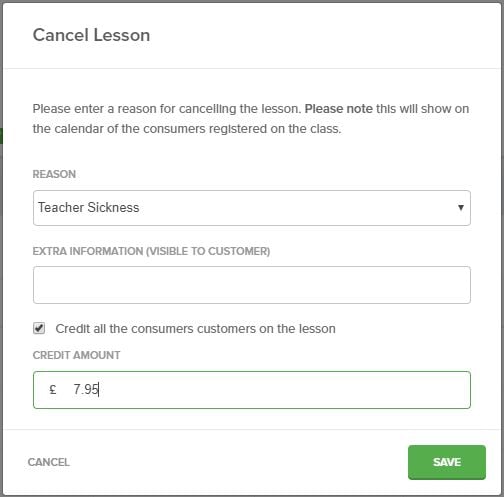 Select a Reason for cancelling the lesson from the list

This list is curated by Central Office

Enter any extra information you would like to add.

PLEASE NOTE: this information is displayed in the email to parents and instructors.

Leave the box ticked if you want to add a credit to each Customer.

The Amount is always pre-set to the lesson cost of the class.

Clicking SAVE cancels the lesson, applies credits and triggers emails & SMS's
PLEASE NOTE: When you click SAVE:
An email will go out to the Customer, Instructor and Venue.
An SMS will go to the Customer and Instructor
Deleting a Lesson
PLEASE NOTE: Be careful - this will completely remove the lesson from Franscape
Select the dust bin button

Add a Lesson
PLEASE NOTE: This function was added with catch-up lessons in mind, therefore no charges are created when adding a lesson
If you need to add a Lesson to a Class for any reason:
Navigate to the Class
Select the Lessons tab
Click Add Lesson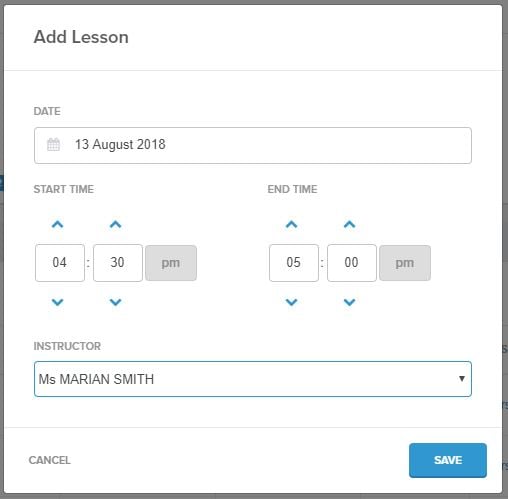 The window is pre-filled with the current Class times and Instructor
Set the Date of the Lesson
Change the Time and Instructor if required
Click SAVE
PLEASE NOTE: The system no longer adds the consumers from the Class to a manually added Lesson (this is due to code involved with making the Venue Manager Report accurate).
To Add Consumers to your newly added Lesson: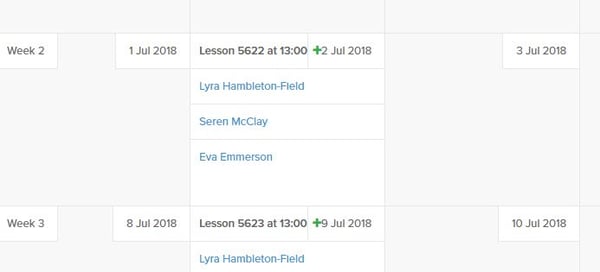 Here you can see your Lessons in Calendar format including Swimmer names (the format needs improving - we're working on it).
Click the Green Plus Symbol (next to the Lesson Date)

Select a Consumer from the list
Click ADD CONSUMER
Do this for each Consumer.