Confirm a booking from the Waiting List for Pay in Advance
To confirm a consumer's place in a Class, go to the Waiting List. Click the Confirm (tick) icon to open the payment window.

Lessons Window
Here you select the Lessons in which the Consumer will take part: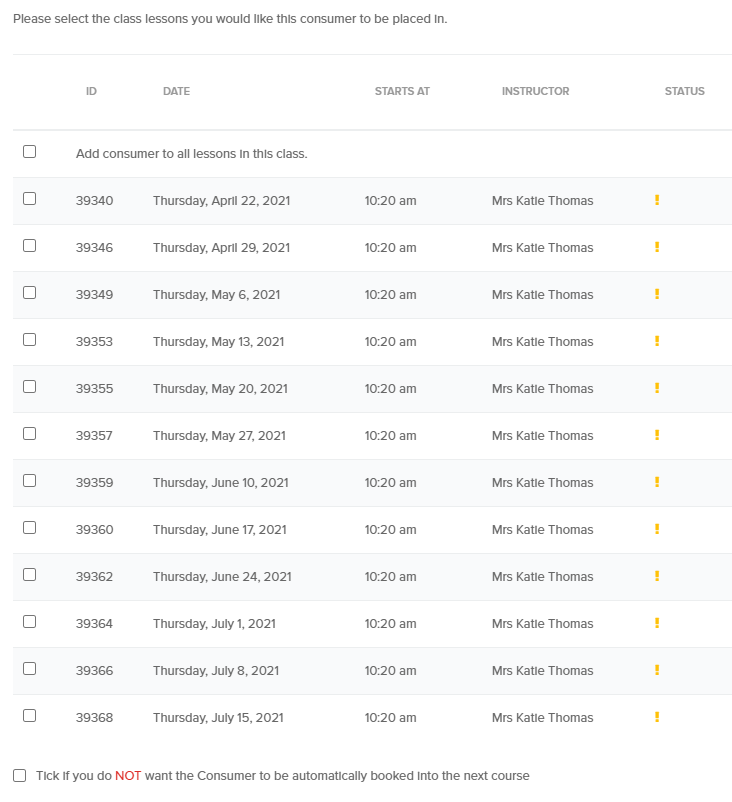 Tick the box at the top to add the Consumer to all Lessons
OR
Tick the individual Lessons that they will be attending
Press Continue
NOTE: The Customer will only be charged for the Lessons ticked
PLEASE NOTE: You can only book Consumers into these lessons as Pay in Advance, as Monthly Plans require a continuous space.
Also, you MUST tick the box "Tick if you do NOT want the Consumer to be automatically booked into the next course"

---
The Cost Window
Here you can apply discounts and venue member details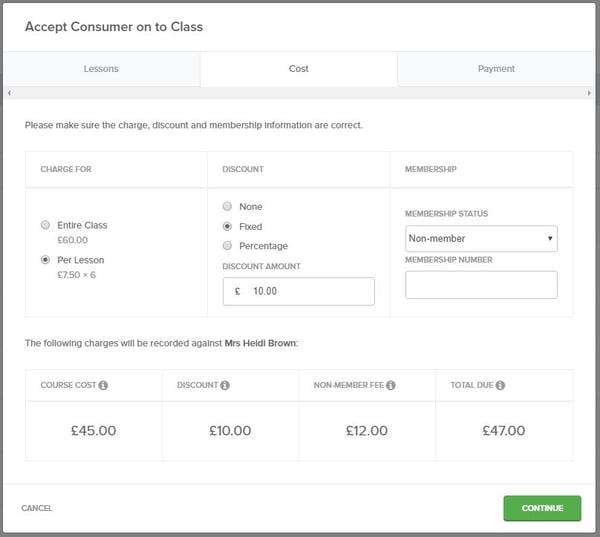 DISCOUNT
If you need to add a discount, select from the "DIscount Type" drop-down:
Percentage Discount

Set a Percentage and Franscape will work out the amount.​

Fixed Discount

Set the amount to be discounted.​
​The discounted amount will appear below and adjust the Total
MEMBERSHIP
There are 3 options for the Membership Status:
Unchecked

Customer is a Venue member but this has not yet been confirmed or they do not have their member number to hand - Non-Member Fee is NOT applied​

Confirmed

Customer is a Venue member and has provided a valid member number - - Non-Member Fee is NOT applied

Non-Member

Customer is not a venue member and the Non-Member Fee is added below.
NOTE: This Membership field only shows if a Non-Member Surcharge is set for the Venue associated with the booking.​​
NOTE: If you leave the "Member Number" field blank the Customer will be registered as a Non-Member
---
The Payment Window
The Payment Window takes the sub-total from the Cost Window and compares it to the Customer's current Balance, giving the Amount Due. You can now take or record payment.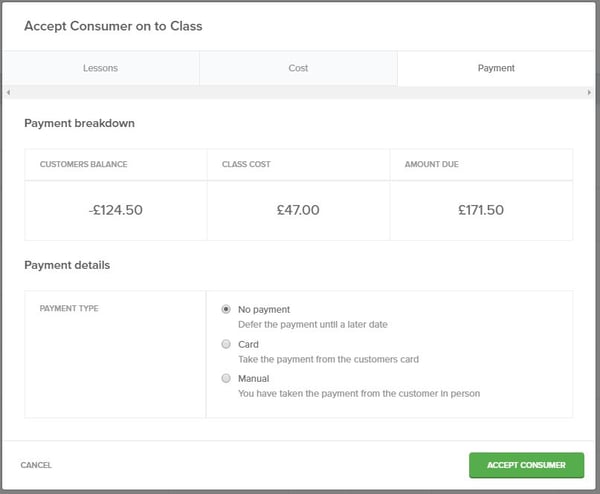 NO PAYMENT REQUIRED
If you are allowing the Customer to take a place in the class but pay at a later date, select No Payment Required, then Accept Consumer. The sub-total will be added to the Customer's account as debt.
CARD
Selecting Card Will bring up the stored card for the Customer (if they have one stored). If they don't, select Add New Card.

Add the required details and select Add Card​
NOTE:
The post code must match the postcode that the card is registered to.​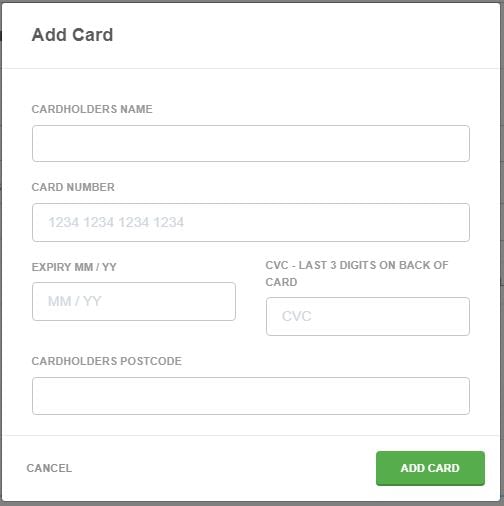 Once you have added a card, select it and then click Accept Consumer.
MANUAL PAYMENT
Here you can add a payment record for other types of payment method - Cash, BACS or Cheque.​​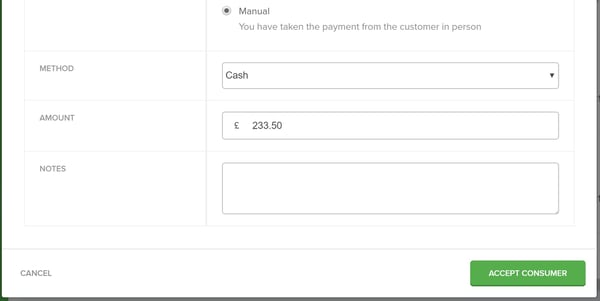 Select the Payment Method
The Amount Paid can be edited if it was a part-payment.
You can add Notes to the payment if required.
​When you've finished, click Accept Consumer.
The Consumer is now fully booked into the Class and the Customer has been sent a Booking Confirmation Email