No matter how the initial booking is made - via the website or directly via Franscape - the customer always has the choice between Monthly and Pay in Advance up until the booking is confirmed.
Navigate to the

Waiting List
Select Confirm Booking

The green tick at the end of the row
Lessons Tab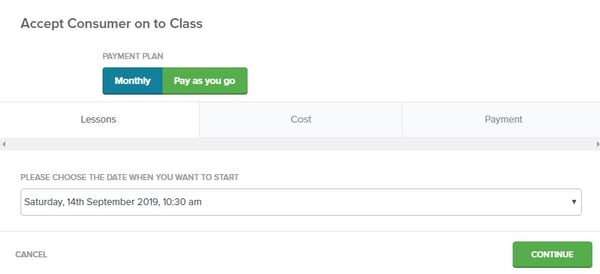 NOTE: If the customer submitted their booking via the website all of the information will be pre-filled. However, it is still editable, so please check the details with them in case they want to change anything.
Choose the Date of their first lesson

If the customer booked online please confirm the date chosen with them

Continue
Cost Tab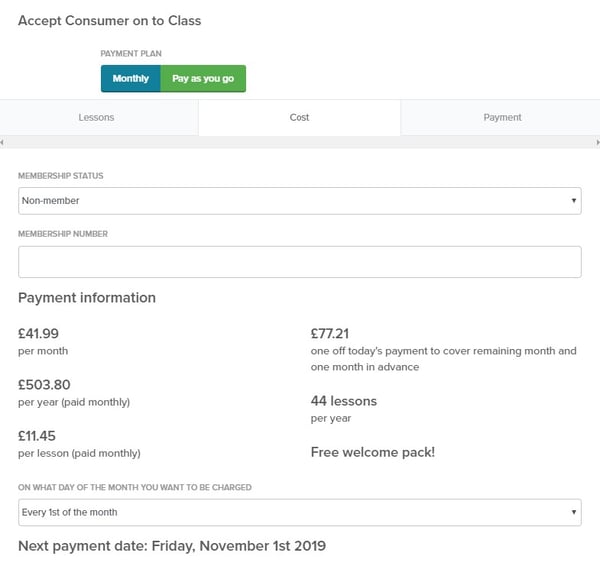 Set their venue Membership Status (where applicable)
Add their Member Number if available
NOTE: If you leave the "Member Number" field blank the Customer will be registered as a Non-Member
Per Month: Click the Information icon and read the script to the Customer
1:
"Your monthly payments will be £XX.XX. This figure is worked out by taking the number of lessons per year at X, multiplied by the per lesson fee, then dividing by 12"
Per Lesson: Click the Information icon and read the script to the Customer
2:
"Your monthly payment broken down per lesson is £X.XX. It includes a portion of the non-member fee where applicable.
Initial Payment: Click the Information icon and read the script to the Customer
3:
"Your initial payment consists of 2 elements:
Fees covering the period from the date of your first lesson to your next payment date
A full month held in deposit

This does NOT constitute your next payment. The month in deposit is held until you give the required 30-days' notice to leave, at which point it will be applied as credit to your online account to cover any monies owed. Any left-over credit will then be refunded to you. Full terms and conditions are available on our website."
Terms & Conditions: Read the script to the Customer

Tick the box if they agree
Will be ticked already if the customer booked online

Continue
Payment Tab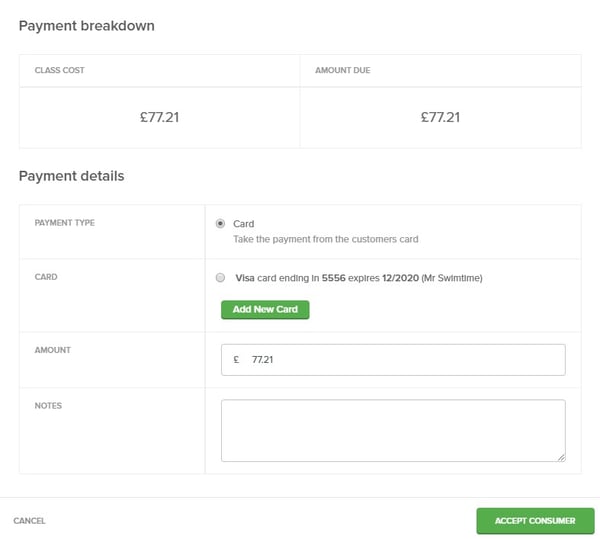 PLEASE NOTE: The customer can only pay the initial payment by card and the payment cannot be deferred to a later date.
Select the card the customer wishes to use
CARD: Click the Information icon and read the script to the Customer
4:
"This card will also be assigned to your monthly payments. If you would prefer to use a different card for monthly payments, I can change it for you afterwards or you can log in to your account and change it online."
Add Notes if required
Accept Customer
The
Consumer
has now been accepted into the class and monthly payments have been set up
If the Customer wants to change the card used for monthly payments, see article Change Monthly Payment Source .