The structure of FranScape's Courses, Classes & Lessons is set up to give the most flexibility and best options for reporting.
A Course is essentially a box containing all Classes of a certain type

A Class is a group of Lessons repeated on the same day and time every week between the Start and End dates of the Course

A Lesson is a single instance of a Class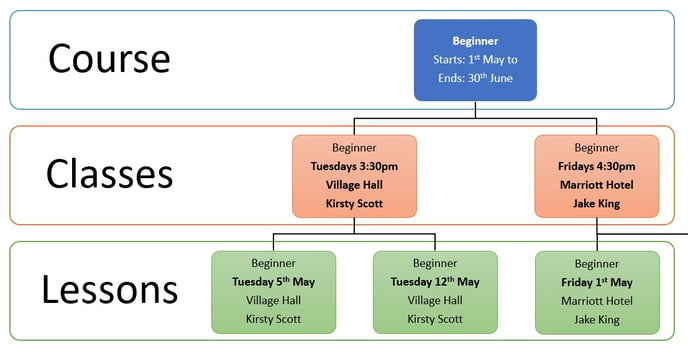 What are the benefits of this setup?
Makes it easier to filter and find what you're looking for
Helps the reporting system define the required data
Makes re-enrolments much quicker and simpler
How do the re-enrolments work?
For each Course you set a new start and end date for the next Course (along with a few other simple settings), then the following happens:
Every Class is copied over, with new Lessons being seeded between the Course Start & End Dates (we call this a Rollover)
Every Consumer is also copied over into the new Classes
Every Customer account has a charge placed on it for the next Course
Every Customer gets an Email telling them that they have been re-enrolled and that a payment is due