As Franchisee you need to create and connect a Stripe account so you can take payments via FranScape.
Please Note: Do NOT connect a Stripe account until you are ready to start taking bookings.
Please Note: Due to the complexity of the system that splits transactions between Franchisor and Franchisees, you cannot connect an existing Stripe account to FranScape. A new account must be created.
Please Note: As soon as you have connected to Stripe, a pro rata charge for the Monthly Fee will be added.
Example:
Franscape Monthly Fee = £30
Connect to Stripe on the 10th of June
A pro-rata charge of £20 will be added, to cover from 10th June until the 30th June.
Select Settings
On the Basic tab click Create or Connect with Stripe
Click Create New Account

At this point Stripe takes over in a new browser tab. Follow the process on-screen to create your account.
PLEASE NOTE: Stripe may set the currency as EUR by default - Make sure you change this to GBP.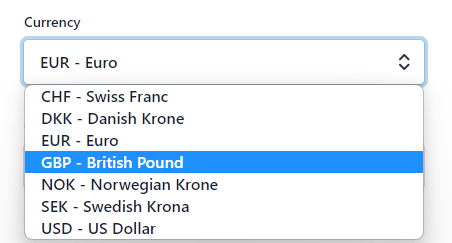 Once you have successfully set up your Stripe account the screen will go white, showing only the word True in the top left. This means that the account has successfully been connected to your FranScape account.
Close the True tab on your browser
Back in FranScape, Refresh the page
Your Stripe account will show as connected:

That's it - all done! You can now start taking payments.
Please Note: When setting up your Stripe account you will have been asked to provide ID documents. You will not be able to receive payouts from Stripe until these documents have been submitted and checked.