Trials are aimed at offering your customers a chance to try your services without long-term commitment and filling up spaces in individual lessons.
"We Don't Call Them Trials!"
Trial? Taster? Tryout? Trailer?
You might not call them a "Trial". That's okay, we've just set that as a default. To change this word, simply contact support@franscape.io with your preferred word and its plural so we can change it for you.
Who Can Offer Trials?
That is up to the Franchisor. The ability to allow trial spaces can be switched on/off per Franchisee. Franchisor Administrators can see the instructions here.
What Options Do I Have?
You can:
Enable trial places per Class
Offer reduced price or free trial places
Limit the number of trial bookings per lesson
Limit the number of trial lessons booked per Consumer in the same class
Create classes purely for trial purposes
How Does This Look to a Franscape User?
Class Settings
You can switch trials on when creating or editing a class. This presents you with 3 settings: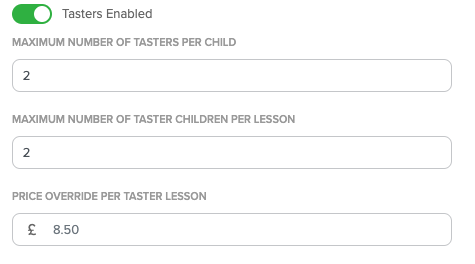 Maximum Number of Trials Per Consumer
Here you set the maximum number of lessons per Consumer that can be booked at one time
The system ensures that these lessons must be consecutive (if possible) when booked
Maximum Number of Trial Consumers Per Lesson
Here you set the maximum number of trial Consumers allowed in each lesson
Price Override Per Lesson
Here you can set the price per lesson for trial bookings
The default setting is the Pay in Advance lesson price
You can set it as £0.00 to offer free trials
On-Screen Information
Classes Table
New Column showing the number of Trial Bookings in the next lesson
Filter to see only classes with trials enabled
Filter to see only classes with trials bookings in the next lesson
Class > Lessons
Turn trial availability on/off per lesson
View Register: Includes Booking Type indicator per Consumer (Standard or Trial)
Class > Consumers
Includes Booking Type indicator per Consumer (Standard or Trial)
How Does This Look to a Customer?
In the Finder
Classes with Trials enabled will be flagged in the Finder

In the Class Preview
The Class Preview page offers the option of booking a Trial place

During Booking
Select Trial Lessons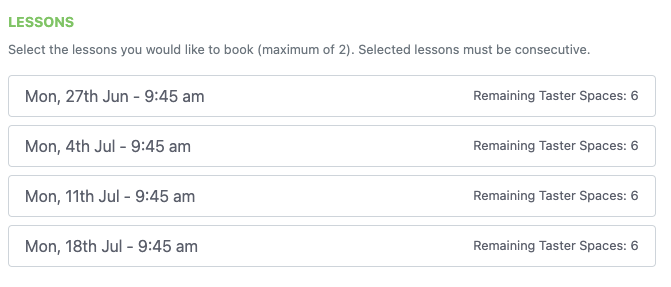 In this example, a maximum of 2 lessons are selectable and they must be consecutive:

Payment
The Customer only pays for the selected lessons at the Trial rate you set on the Class
If you set it as £0.00, the Customer does not have to add a payment card during the booking
What happens when all trial places are booked?
If all trial places in a class are booked, all indicators of trial availability for that class will be hidden.
Communications
Trial Booking Confirmation
The Customer will receive the Class Booking Confirmation - Tasters email.
Post-Trial Follow-Up
Franchisees are CC'd into the booking emails for trials - use the information there to follow up on bookings.
COMING SOON!
Within an hour of the Consumer's last Trial Lesson, a follow-up email is automatically sent out to encourage them to make a standard booking:
A link to the Class Preview page for the class they attended will be included if they want to re-book a standard place
A link to the Finder is also included in case they want to/need to find a different class
How does the customer re-book?
The Customer can simply go online and book again.
COMING SOON!
The customer can simply follow the links in the automatic follow-up email to either book into the same class again, or find a different one.
How do I re-book the Consumer