Each Class has it's own Waiting List which contains Consumers that are waiting for a space in the class. They will have been put there as a result of either:


A booking made via the website
A booking made over the phone

On the right hand side of each row there are four buttons

Tick - Accept the Booking


This will only show if the class is active
If the class is not active, you will need to move the Consumer to an active Class

Magnifying Glass - View consumers Details
Arrows - Move the Consumer to another Class
X - Reject the Booking
Accept the Booking
Click the Tick button
Process the payment as usual - See Confirming a Booking & Taking Payment
Move the Consumer to the Waiting List of Another Class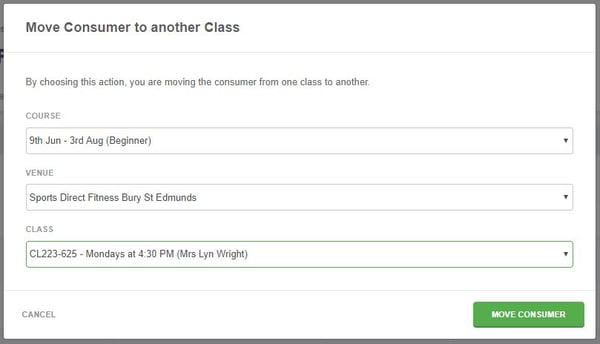 Select the class you wish to move them to by first filtering down to the relevant Course, then Venue, then Class
NOTE: This will ask you to select all lessons the Consumer will be attending. Select "All" for now - You will be able to select again when confirming the booking.
Clicking Move Consumer will then move the Consumer to the waiting list of the selected Class