PLEASE NOTE: When a Monthly payment is declined, a manual payment should NOT be made in it's place as:
FranScape will continue to request the scheduled payment from the assigned card each day.
Not resolving the issue with the card issuer may cause the next payment to be rejected for the same reason.
When a Monthly payment is declined the Customer receives an email telling them NOT to make a manual payment (they also receive a SMS telling them to read the email). The email says:
Hi customer.first_name ,
Your monthly payment for payment.date has been rejected by the payment provider for the following reason
payment.rejection_reason
Please contact your card issuer if you are unsure why this has happened.
If you need to assign a new card to monthly payments visit you're brand_name account.
PLEASE NOTE: DO NOT make payment manually. Once the reason for the rejection has been resolved our system will take the monthly payment automatically the next day.

Kind Regards,
brand_name
What if they've made a manual payment already?
If the customer has still gone online and made the payment manually you will need to mark that payment as "Paid"
Please Note: The customer still needs to resolve the issue with their card issuer, otherwise the next payment may be rejected for the same reason.
Navigate to the Customer
Select the Plans tab
On the affected plan, click the Card icon on the right

This shows you the payments Schedule

Click the button on the right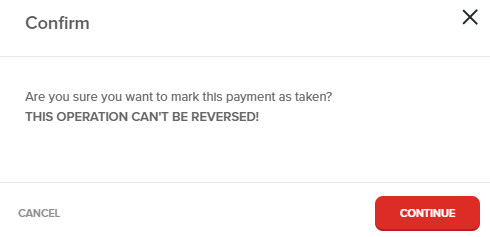 Read the Warning
If you're happy, click Continue
FranScape will mark that payment as paid (stopping all warning emails) and then schedule the next one (you may need to refresh the page to see the next scheduled payment).