This flow is for clients whose bookings always go into the Waiting List before being confirmed.
When a booking is made via the website or Phone booking it will be placed in the waiting list for that class.​
When you have confirmed a phone booking Franscape will take you straight to the waiting list.
To view the waiting list at any time, select "Waiting" from the left-hand pane.
To view the waiting list for a particular class: navigate to the class and select the "Waiting List" tab. Each waiting list entry has 2 options – Confirm (tick) or Reject (x)

Reject a Booking
To reject the booking, removing the consumer from the waiting list completely select the red 'X' (in the image above). This brings up the "Remove consumer from the Waiting List" window:​
Here you choose the Reason why you have rejected the booking
Choose whether to automatically Send an Email to the customer
Add Additional Information if sending an email
​Once done click Remove consumer.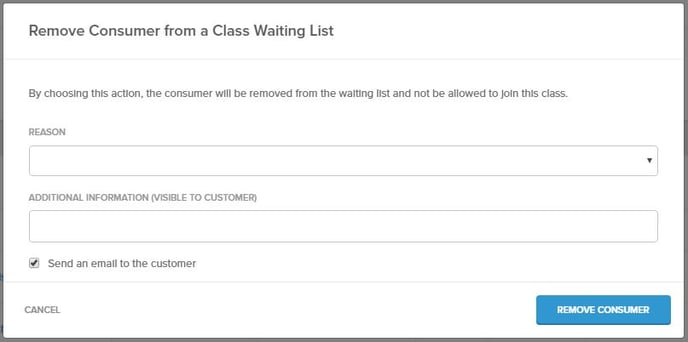 NOTE: The Customer and Swimmer will remain on the system as a "Prospect"