Remember – you may need to perform a hard refresh to pull in these updates (Ctrl+Shift+R)
Occupancy Features
The occupancy data has been updated to reference the number of Consumers in each lesson, rather than in the class overall. See these articles for further detail:
Please Note: Class Occupancy figures will update overnight.
FranScape
Franchisees can now Suspend/Unsuspend plans. See Knowledge Base Articles for instructions:

PLEASE NOTE: The suspend plan function was originally built in response to COVID-19 lockdowns. We have made this available to Franchisee users while your services return to normal. The availability of this feature will be reviewed in the near future.
Waiting List - The button to accept a Consumer from the Waiting list will now only appear if the class is active
Incentive Scheme > Levels - "Add Level" button reinstated
Re-Enrolment Emails - If a Customer's rollover status has changed to No (if they cancel their plan, for instance) between the course being rolled over and the emails being sent, the Customer will no longer get an email
Global Search - Fixed an issue where the Search Everything field wasn't showing results for Consumers for Franchisee users


We've also added an extra search function where you can type in the entity type to further filter the results:

For example – if you type "Consumer Joe Bloggs" the results shown will only be Consumers

Classes > Course Information - Added links to the same class in the previous/next course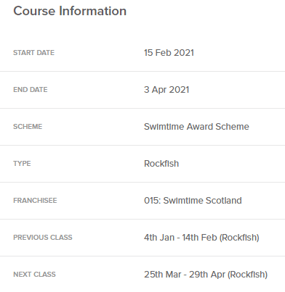 Finder
Minor updates to the Help Text
Labelling of Options Fields

Including flagging mandatory fields

Fixed issue where Category selection was not filtering the levels list