Can trial bookings be placed on the waiting list?
Trial Booking to the Waiting List via the Finder
Please Note: When a Customer is booking via the Finder, if all trial places in a Class are full, there will be no option to add a taster booking to the Waiting List.
Trial Booking to the Waiting List via Franscape
Franscape Admin/Franchisee users can add trial bookings to the waiting list at their discretion:
Note: You will need to create the new Customer and Consumer first. See:
Find the relevant class (with Trials enabled)
Select the Waiting List tab
Select Add Consumer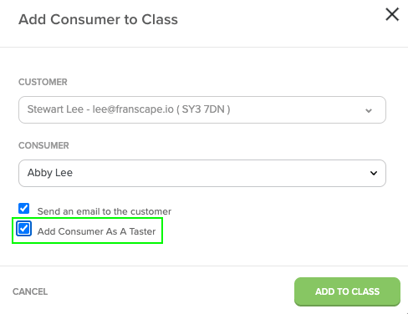 Enter the Customer name or email and select the right one from the list presented
Select a Consumer from the drop-down
Tick the Add Consumer as a Trial box
Click Add to Class
The Customer will receive confirmation via email that they have been added to the Waiting List for a Trial.
How will I know which waiting list bookings are for trials?
This will be represented by the Booking Status in the Waiting List table: