For instructions on how to access the instructor app, see Accessing the Instructor App
What is in the Instructor App?
The Instructor App gives you access to:
Lessons

View Lessons
Complete a Lesson
View Register
Print Register
View Medical Details
View Basic Consumer & Customer Details

Classes

View further details of classes
View Lessons
From the Dashboard or menu, select Lessons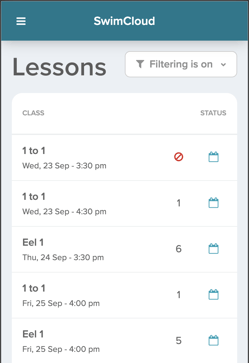 The Lessons Table displays:
Class Type, Day, Date & Time
The number of Consumers in the lesson

The icon in this column means that there are no Consumers in this lesson

Status

The icon signifies an Upcoming lesson
The icon signifies an Incomplete lesson (the lesson date has passed but the register has not been completed)
The icon signifies a Completed lesson (where you have completed the register in the app)
The icon in this column means that the lesson is Cancelled
Complete a Lesson
On the Lessons page: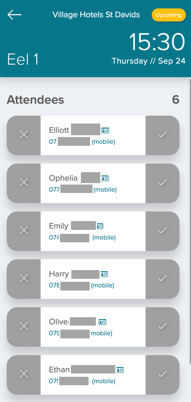 Mark each Consumer as Present or Absent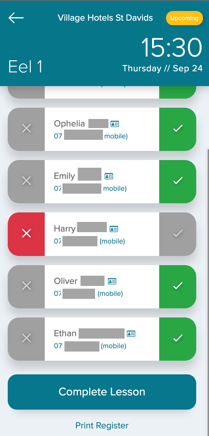 Press Complete Lesson

This button will not be available until you have marked every Consumer as either Present or Absent
Print a Register
Select Lessons
Find and select the relevant Lesson
Scroll to the bottom of the Register

This will open the register as a PDF which can be printed.
View Consumer/Medical/Customer Details
Select Lessons
Find and select the relevant Lesson
Tap on the icon for the relevant Consumer
This will take you to the basic and medical details for that Consumer, and a link to the parent details.
If no medical details are present it means they haven't been submitted by the Customer.
To view basic details of the Customer,
Tap on the icon next to the Customer's name
This will show you basic contact details for the Customer