Franscape sends out a report to all nominated Venue contacts at 5:00pm each day. The report contains a reduced version of all registers for the following day: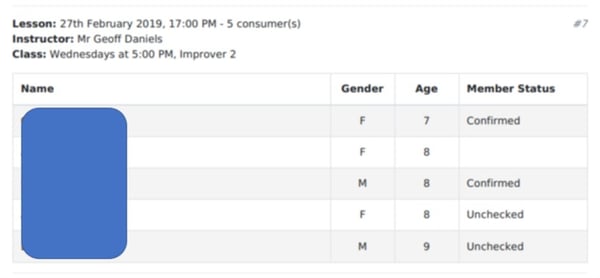 The Membership statuses shown are:
Confirmed
Unchecked

Means that the venue needs to confirm

Non-Member

a blank space also means non-member
Activating the Report
NOTE:
For this report to go out there must be at least one contact attached to the venue with a valid email address,
Navigate to the Venue

Note that the next 5 days reports are displayed at the bottom of the Venue Information tab

Select the Contacts tab

Note that each contact has a "Receive Registers" status

Select the Edit button in the Contact that needs to receive the report
Click on the button Send Lesson Registers

They don't have to be a Primary contact for this
SAVE
How do I get this report sent to multiple contacts?
Simply add a new contact to the Venue and then follow the steps above.