PLEASE NOTE: All £ totals shown in the Venue Share Report are INCLUSIVE of VAT
PLEASE NOTE: This report CANNOT yet spot where 2 or more classes have taken place in a facility at the same time, so you will still need to be vigilant in checking the results. We are working on a solution to this.
To run the Venue Share Report:
Go to Reports
Select Venue Share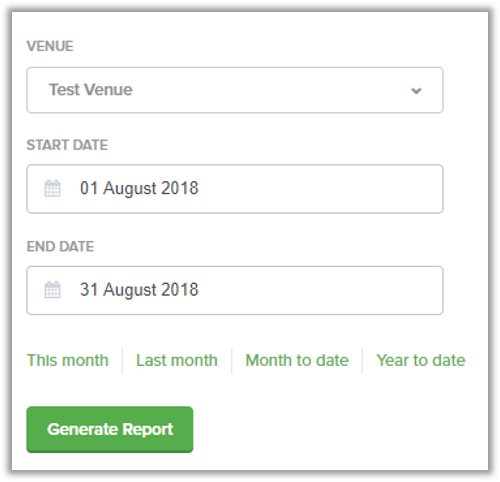 Select the Venue

You may need to start typing the name to activate the list

Select the Start & End Dates for the report
Click Generate Report
NOTE: You can also run the report on all Venues in a Group (Village, Marriott etc...) or a Territory.
Results Summary

Shows:
Customers in Period
Consumers in Period
Lessons in Period
Revenue in Period
Venue Membership status of Customers that had Consumers in the chosen period:
Confirmed Members
Unconfirmed Members
Non-Members

NOTE: This only counts Customers that are marked as a Non-Member on the system. However, most non-members are not officially marked, so this number is too low. To get a true number for Non-Members use the formula: Customers in Period - (Confirmed Members + Unconfirmed Members)
Report Detail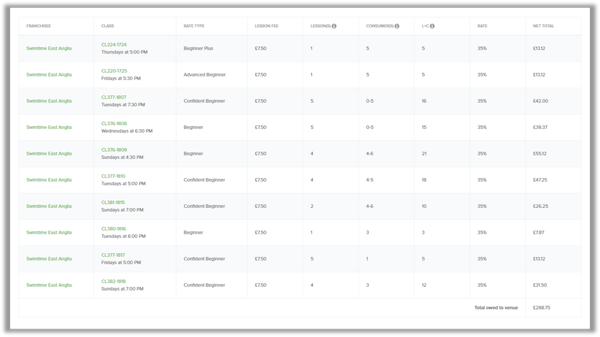 Shows per Class:
Class
Rate Type (Course Type)
Revenue
Rate

Venue % share for that Course Type

Lesson Fee
Lessons in period
Members in the Class

Member
Non Member
Unconfirmed

Consumers per Lesson

if this shows 2 numbers - ie 4-6 - this means that the lowest number of Consumers in a single lesson was 4 and the highest was 6

Lessons x Consumers

Adds up all Consumers in all Lessons in the Chosen period

Total

Total share owed to the Venue for that Class for the chosen period

Total Owed to Venue (bottom of page)

The "Total" column amounts added together gives you the total amount owed to the Venue for the chosen period
PLEASE NOTE: All £ totals shown in the Venue Share Report are INCLUSIVE of VAT