To view the details of a monthly plan:
Navigate to the Customer
Select the Plans tab

NOTE: Each monthly plan is related to a class, so they are displayed per Class
Plans are displayed with information relating to the class the Consumer is in. The plan specific information in the table includes:
Card Expiry Date
Deposit

This is the Month in advance the Customer paid in their initial payment. It will not change if they move between classes or the lesson price rises in future

Monthly Fee

This will change if lesson prices change in future

Date the Next Payment is Due
Amount that will be paid in the next payment

This can differ from the Monthly Fee if credits have been applied to the Customer account
Active

States whether the plan is currently active or not
View Payments Made
To view payments made select the View button (magnifying glass)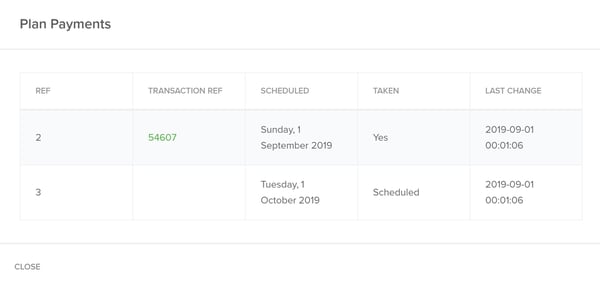 This shows you:
The Francsape Transaction Reference
The date it is Scheduled to be taken
Whether it was Taken as scheduled
When the transaction status was last updated (Last Change)
NOTE: Each time a payment is taken it also schedules the next one.
Editing a Plan
Navigate to the Customer
Select the Plans tab
Click the Edit (pencil) button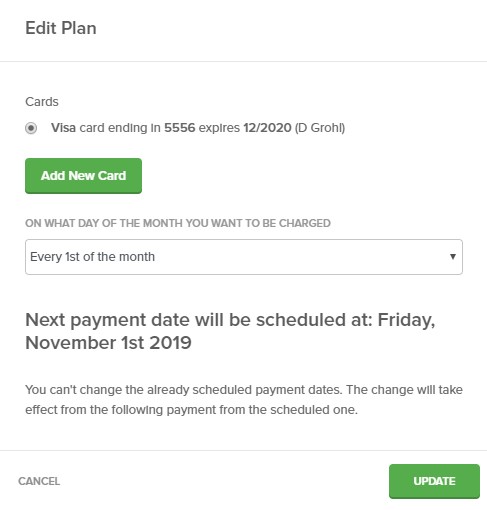 You have 2 options here:
Change the payment card assigned to the plan


either select from an existing card or add a new card

Change the day of the month the payment is taken

Select a new payment date
Please Note: FranScape does not currently work out pro-rata charges or credits based on a change of the monthly payment date.