Venues can be created by any user. When creating a new venue, we recommend you c
heck that it doesn't already exist in Franscape.

To create a new venue, go to Venues and select "New Venue"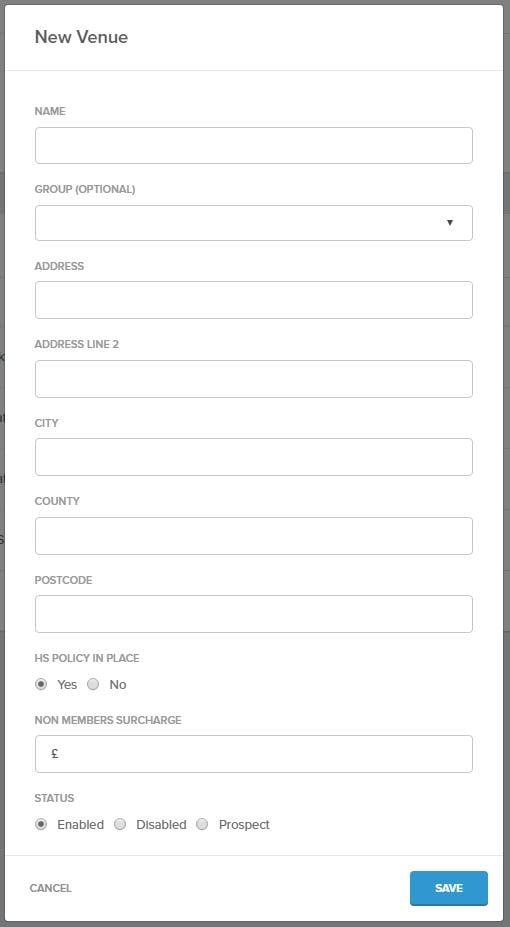 Name it (see above)

This is the name that will appear in the lesson finder, so make sure it is clear.

Assign it to a Group

Leave blank if it's an independent venue

Add the Address

You MUST add the correct postcode – it's integral to how Franscape works

Mark whether the Health & Safety Policy for this venue is currently in place (optional)
This is the number of Courses/Terms you run per year. This is Very Important if the classes at this Venue include a Non-Member Fee.
This is a crucial setting if you are planning on using the Monthly Plan and setting your Non-Member Surcharge to "Per Course"
PLEASE NOTE: If you are using the Monthly Plan, setting the Non-Member Surcharge to % Per Course, £ Per Lesson or % Per Lesson will cause the monthly payment for classes at the venue to fluctuate slightly depending on the number of lessons in the current course.
We recommend you use £ Per Course if you are running the Monthly Plan
Set the Venue Status:

Enabled – Classes can be added to this venue
Disabled – Classes cannot be created at this venue
Prospect – Store all of the details of a prospective venue
SAVE

Once the basic details have been saved, you can head into the venue record to add the finer details: